What a great game Roblox is! Not for nothing has been afloat since 2004 and already reaches 200 million monthly users. The great thing about this platform is the lots of games available for users, and that all of them can be played with your friends and many more people. One of the fundamental aspects of these multiplayer games is their customization capacity, and here Roblox is not far behind. But that's what we've come to talk about today, stay to learn how to create clothes in Roblox.
Sometimes it can be a little difficult for us to know how to refer to Roblox, because it is not really a game. Roblox is more of a database, a set of default tools with which you can do many things (like legos). Anyone can create a game on Roblox, if they have the knowledge. Thanks to this dynamic, not a few Roblox-based games have gained great fame and success. This "game portal" offers endless ways to have fun, but Best of all is being able to play with your friends. The latter has been the key to the success of Roblox.
How to modify clothes in Roblox?
El similarity of the game platform Roblox with Minecraft is undeniablealmost impossible not to see. Although the possibility of creating infinite games from each one is very similar, that of customization at extreme levels, too.
In Roblox you can access the avatar store, where you will have at your disposal an incredible amount of accessories or modifications for your character. Among all this we find, of course, clothing. It is divided into several categories, so that it makes the search much easier. Most of it is completely free, but that does not mean that there are many payment options.
To access the avatar store, you can touch here.
But what happens when you don't want any of those outfits? In case you know what you want and you don't like any of the ones available, in Roblox you can create your own clothes.
How to create your own clothes in Roblox?
Well, it may seem like a simple task, but it's not so simple in execution, it takes work.
Requirements to create clothes in Roblox
First of all, there are a few things you should know:
You will need a image editing programThe more professional the better. Any skills you have with these software will be very useful.

Roblox offers you a free creation engine to test the items you do before importing them into the game: "Studio".

It is not mandatory to have a PC, however, it would be much more comfortable.
You have to have roblox premium, that is, having paid the membership. So although the possibility of creating the clothes themselves is free, to finally import them into the game you will have to pay.
And well, basically you don't need more than this, now let's see how the whole process is to create clothes in Roblox. It's not exactly intuitive, but it's not difficult either, pay attention to the instructions and you'll get it right the first time.
How to create clothes in Roblox?
In this article we will see how create classic clothing, which is a 2D item with which you can cover your character in the game. Classic clothes can be upper body garments (shirts and t-shirts) and lower body garments (Trousers). When you make your own clothes, you can even sell them in the in-game store. So if you are an artist or someone who enjoys graphic design, this could be a way to earn some extra income.
Now, let me walk you through all the steps to create an item of clothing for Roblox:
Download the template to create the specific garment.
Once you have the models, it is time to make your art. As you can notice, models make the body think of paper figures, and in the models, the paper is prepared to be painted. In the files you will find some simple rules and indications to facilitate the process.
Once you've created the garments in question to your liking, you're almost ready to put them in the game, but you'll want to try them out first. To take a look at how your work turned out, you can run it through the Roblox software: Studio. Use it to check that everything looks good on you and see if you like how it will look in games.
Go to the official page of Roblox , where you get the other clothes, but this time press "Create". Later, select the type of garment you want to create and give it a name. Finally, all you have to do is touch "Browse" to find the drawing you made with the model and upload it.
Now you can equip your character with this new garment.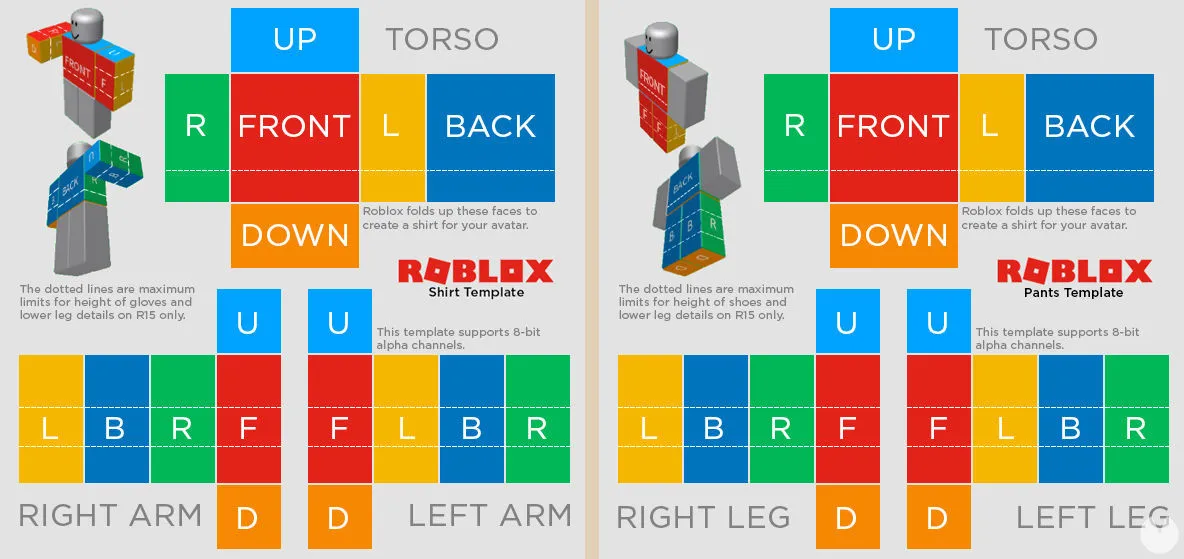 Some notes that might be useful
Upper body garments cover the upper limbs, torso, back, and the base of the neck. Surely you could have imagined this, but the lower body garments you probably didn't expect it. These cover lower limbs, yes, but also add another layer to the torso, back and base of the neck. This data can come in handy to create good outfits.
The templates have dimensions of 585 x 559, any changes to this will likely render them unusable and incompatible with Roblox code. Just be careful not to edit more than the account.
If you don't have graphical editors, Paint might work fine. However, if you are going to download one, there are some good free options, for example: InkScape.
In many cases, to get the file out of the editor, you'll have to look for a "Export". Also make sure you get a file in JPG or PNG format, otherwise it could give you an error.
And that's it, don't stay with the desire to enjoy this magnificent opportunity that Roblox offers us. They can say whatever they want, but for Roblox to make it so easy and a bit complicated at the same time is an advantage for the skilled user. Well, now you know how to create clothes in Roblox, don't delay putting this tutorial into practice.